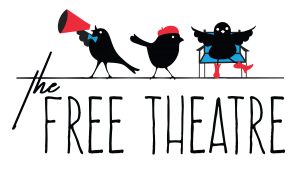 Directing and Artistic 
Leadership BootCamp 

p
For the first time, The Free Theatre shifts its focus from production to training, as we present our Directing and Artistic Leadership BootCamp. This is the next evolution in our commitment to students driving the creative vision and practical functions of our company and productions, and we are thrilled to present this opportunity to our students.
Over the course of four weeks and ten meet ups on Zoom, students of the Free Theatre who are actively interested in directing will receive training from professional director
Megan Behm
(NextStop Theatre Company, Avant Bard Theatre, The Virginia Shakespeare Festival, The Welders, Woolly Mammoth Theatre Company, and more), with assistance from production and stage manager,

Hope Villanueva

(Rock of Ages Hollywood, Ringling Bros. & Barnum and Bailey, Woolly Mammoth Theatre, Imagination Stage, Olney Theatre Center, and more). These sessions will delve into analyzing a script, developing a vision for a production, running a rehearsal room, communicating creative ideas to a team, and much more.
This program is targeted toward high school aged students with some theatre experience, who have a strong interest in directing. It is important that BootCamp students are driven, composed, open minded, and self- motivated.
Students will have a chance to work on scenes, interview professional directors and designers, collaborate with others, and present samples of their ideas to the company.
Session Dates:
Wed June 3         Noon-1:00pm Orientation Session
Sun June 7         1:00-5:00pm Session #1
Wed June 10      10:00am-2:00pm  Session #2
Sun June 14       1:00-5:00pm  Session #3
Tues June 16      10:00am-2:00pm Session #4
Fri June 19         1:00-5:00pm  Session #5
Sun June 21       1:00-5:00pm  Session #6
Tues June 23      10:00am-2:00pm  Session #7
Thur June 25      1:00-5:00pm  Session #8
Sun June 28       1:00-5:00pm  Session #9 – Final Presentations
In commitment to our student members and our mission of accessibility, the BootCamp is available FREE of charge to our current members and NOW OPEN to a limited number of non-company members for a $50 fee. Fee is payable through the PAYPAL button below.
UPDATE 6/1/20: We have 16 students ready to get started this week! Congrats to all who were accepted into this unique program!
*Participating students are expected to attend all sessions and complete all assignments.

For questions regarding the BootCamp or applying to the program,