2023-24 Student Leadership Team
** in progress, TBA August 2023!
Chase Pasekoff, Company Manager
Nate Kaufmann, Marketing Director 
Molly Carson, Dramaturg
Molly is a homeschooled junior and is pursuing an A.A. in music at Frederick Community College. Their first show with the Free Theatre was Urinetown and this is their first season as the company dramaturg. Molly is active in community theatre in the area, both onstage and offstage as a dramaturg or music director. Outside of theatre, Molly enjoys screenwriting, baking, and playing piano. They are so excited for this upcoming season!
2023-24 Artists in Residence
In support of our mission of student managed productions, our Artist-In-Residence Program was created to help facilitate mentorship and collaboration between student leaders and their professional counterparts on our productions.  These artists are available to student leaders and cast members as an integral part of the educational process.
Marci Shegogue, Music Direction
Marci has served as music director for hundreds of professional, community and educational program productions in the D.C. area over the past 40 years. In addition to working with The Free Theater (Fame, Mamma Mia, In the Heights, Sweeney Todd, Pippin, Chicago), she is the resident Music Director for Free Range Humans, a professional immersive theater company, and serves on the Board for Free Range Kids (both based in Frederick, MD). Marci has worked extensively with educational musical theater programs in the DMV, including Montgomery County Public Schools drama programs. Favorite productions include Little Women (University of Maryland, and MC Summer Dinner Theatre productions) Jekyll and Hyde, Murder Ballad, Always Patsy Cline, Striking 12, 35mm (Free Range Humans), Double Trouble (Imagination Stage), Infinite Future: A Celebration of Leonard Bernstein (Monumental Theater), Catch Me If You Can (Act Two at Levine), Tommy (Kensington Arts Theater), Newsies (Quince Orchard HS Drama), Aida and In the Heights (Northwest HS Drama), Spamalot and Forever Plaid (Rockville Musical Theater), and Beauty and the Beast (Damascus Theatre Company). She is a University of Maryland theater and music department alumnus and has trained professionally with DC and NYC artists. Marci is also a collaborative accompanist, mentor and audition coach and freelance musician.
Seoyoung Kim, Production Management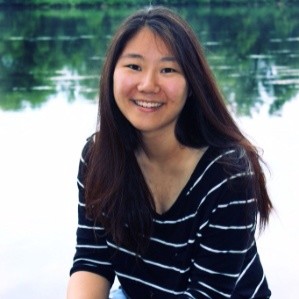 Seoyoung has worked professionally around the DMV area as a production manager, designer, and all around tech since 2017. They worked with The Free Theatre as the Production Manager for "Fame" tech week and performance in 2019.
Kathryn Chase Bryer, Directing Mentor
Kathryn Chase Bryer is the Assoc. Artistic Director of Imagination Stage.  She is a theatre artist with a background in directing, acting, dramaturgy, teaching, and administration and holds a B.S. from Northwestern University. For Imagination Stage, Kathryn has directed over 50 productions in the last 25 years and has helped to develop and commission over a dozen scripts, In 2014, she directed The BFG which won the 2014 Helen Hayes for Best Scenic Design and Best Production, Theatre for Young Audiences, and in 2015 her production of  Wiley and the Hairy Man won the 2015 Best Production, Theatre for Young Audiences.  In 2018, Kate won the Helen Hayes for Best Director of a Musical for her production of Wonderland, Alice's Rock and Roll Adventures which also won Best Production Theatre for Young Audiences.   In addition to her duties at Imagination Stage, she has directed Scapin (2014) and Peter and the Starcatcher (winner of Helen Hayes 2018 Best Ensemble, Musical) at Constellation Theatre Company, The Late Wedding (2017) at the Hub Theatre and Fly By Night (2018) at 1st Stage, VA (nominated for 11 Helen Hayes Awards winning 5 including Best Director of a Musical, Hayes).   In 2019, she directed The Wolves at Next Stop Theatre in Herndon, Va., The Oldest Boy at Spooky Action Theatre , American Spies and other Homegrown Fables at the Hub Theatre and A Doll's House at Tawes UMD.   She currently serves on the Advisory Board for Theatre Washington and the Helen Hayes Committee.
Rikki Howie Lacewell, Choreography Mentor

Rikki Howie Lacewell is a WATCH nominated choreographer, director and performer based in the Washington DC area. She has worked extensively in the Professional and Community Theater community over the past 20 plus years.
Megan Holden, Scenic Design Mentor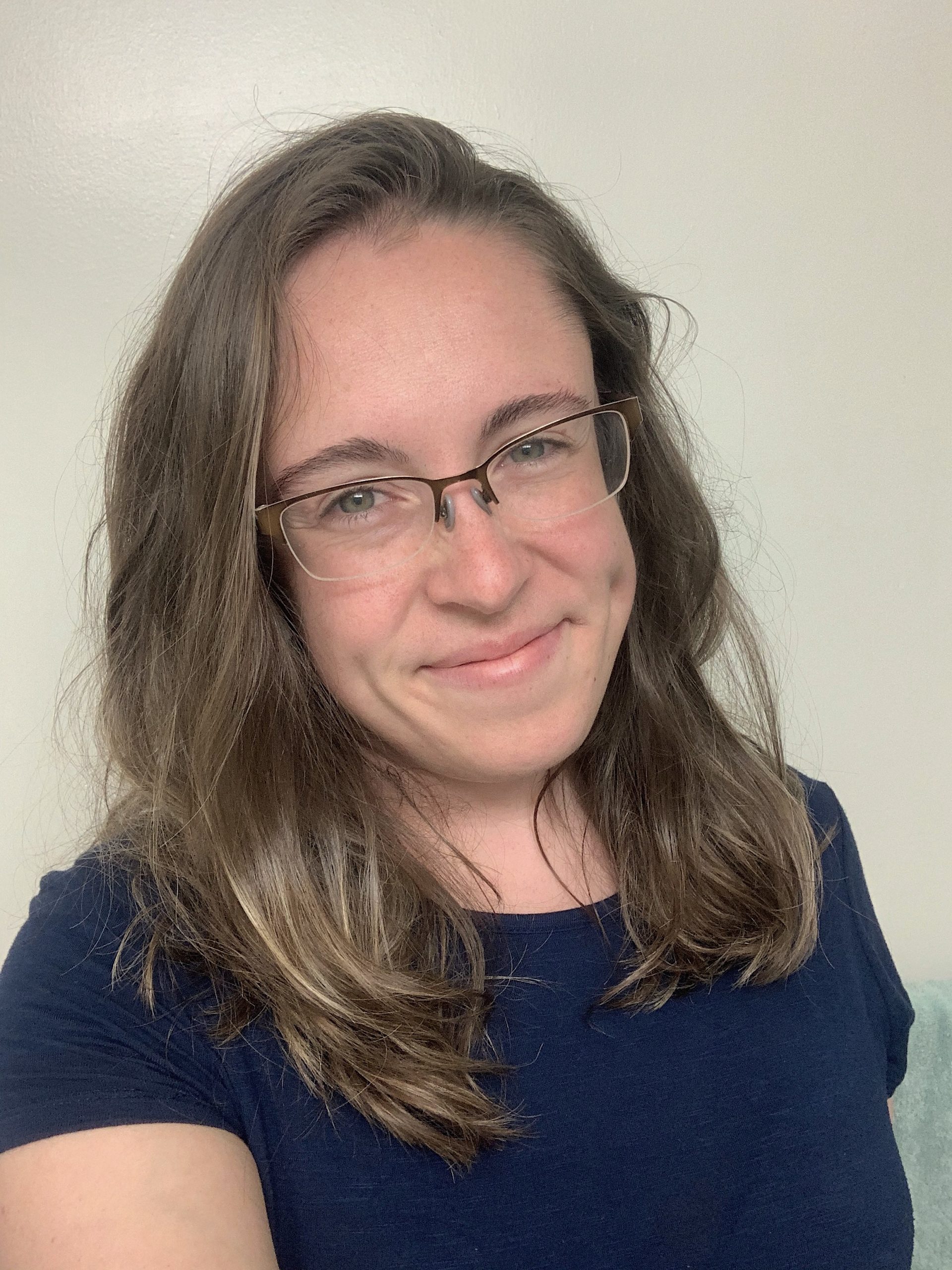 Megan Holden is a scenic designer, scenic painter, and theatre artist. She graduated from James Madison University in 2017 and has been freelancing in the DMV area since 2019. Her first production scenic designing with the Free Theatre was Fame in 2019.
Hailey LaRoe, Lighting Design Mentor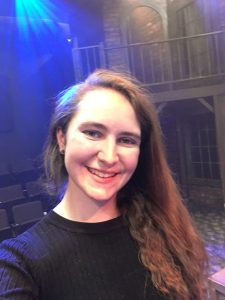 Hailey is a Lighting and Projection Designer, who has been working in the DC area since 2018, and has worked with The Free Theatre since December 2018. She grew up in Bethesda Maryland and returned to the area after attending Ohio Wesleyan university studying History and Theatre. Theatre has been a central part of Hailey's life ever since she started doing tech work in middle school. She believes that student leadership and technical/ design knowledge is so important for any young artist and she is so thrill to have the opportunity with The Free Theatre to pass down some theatre know-how. You can find some of her recent work at Haileylaroedesigns.com
Kristina Martin, Costume Design Mentor
Kristina i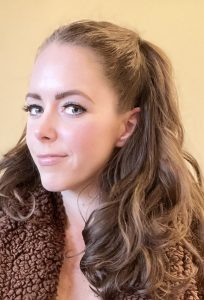 has a Theatre degree from The College of William and Mary, where she worked as the Wardrobe Supervisor. Her DMV Costume Designer and Wardrobe Supervisor credits include: Virginia Shakespeare Festival, NextStop Theatre Company, Infinity Theatre Company, Shakespeare Theatre Company, Silver Spring Stage, Studio Theatre, Theatre Prometheus, bel Cantanti Opera Company, Urban Arias, Keegan Theatre, Washington National Opera, Brave Spirits Theatre, Land and Hungry Theatre Company, 4615 Theatre, Catholic University, Towson University, and Forum Theatre Company.  As the Resident Designer and Shop Manager of Transcendence Theatre Company in Sonoma, CA, Kristina won awards for 2019 Best Costume Design from Broadway World Bay Area, as well as Costume Designer of the Decade. Recent local work includes multiple productions with Imagination Stage and Montgomery College
TJ Lukacsina, Artistic Mentor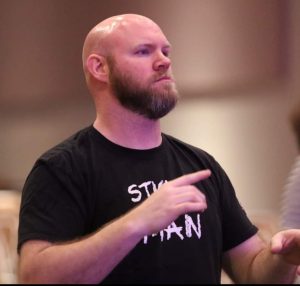 TJ
has been working with community theatre in the DMV area since 2014. He is currently the Artistic Director for Silhouette Stages and sits as the Chair for the Washington Area Theatre Community Honors (W.A.T.C.H.) organization. Directing: Hairspray – Rockville Musical Theatre; Cinderella, Big Fish, Legally Blonde – Silhouette Stages; Into the Woods, Thoroughly Modern Millie – Heritage Players; Sweeney Todd, High School Musical, White Christmas – Laurel Mill Playhouse. Lighting Design: Jekyll & Hyde: An Immersive Experience, Striking 12, Always Patsy Cline, Murder Ballad – Free Range Humans; Cabaret – Silhouette Stages. Music Direction: 14 shows with Hammond High School.
Rooster Skylar Sultan, Patron Accessibility Mentor and Props Design Mentor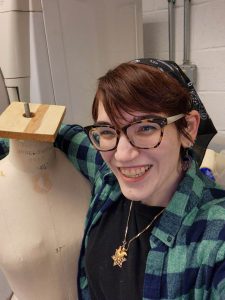 Rooster Skylar Sultan (she/her) is a Prop Designer/Artisan and Scenic Artist in the DC Metro area. She is the resident Prop Designer at Montgomery College Rockville (2021- current). Some of her recent property design credits include: Sometimes the Rain, Sometimes the Sea; Chemical Exile: Synthesis (Rorschach Theatre); The Pursued . . . The Tired; Blackwell Island (Signature in the Schools); The Rainmaker (1st Stage). She is an alum of the Montgomery College Rockville Theatre Department and has a BFA in Theatre Design and Technology from The University of North Georgia. Rooster is a member of USITT – Chesapeake Section www.DesignedByRooster.com
Ginger Ager (Gene's Costumes), Costume Design Mentor