OUR SPRING 2020 SHOW IS:
"Sweeney Todd"
May 29-31, 2020
BlackRock Center for the Arts, Germantown, MD
THANK YOU FOR SUPPORTING OUR FALL SHOW!!

For more information, or to be added to our email list, please email info@thefreetheatre.org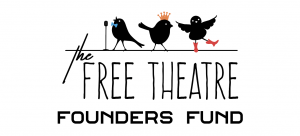 The Founders Fund has been created in honor of our mission, "[to create a] tuition-free company for students who are passionate about creating theater."
This Fund has been named to honor our Founding Members: Matthew Ciazza, Pria Dahiya, Jenny Dalrymple, Kira Gandolfo, Carlos Hernandez, Lily James, Emily Lane, Devin Lucas, Julia McGowan, Jasmine Mondshine & Michael Votaw. They all graduated in 2019, and many are off to college to continue their study of the performing arts. With your generous support, you will help us to continue to grow this strong company in honor of our founders. It is our hope that each new group of students will find a home here at The Free Theatre!